As we enter the summer season many UK event companies are carrying out their last minute preparations for the busy period ahead. From training staff to promoting business, buying equipment to booking venues, owners are working hard to ensure their business is ready.
The events industry has had tremendous success over the last few years with no indication of slowing down. The 2018 Eventbrite Pulse report estimated the sector to be worth £42.3bn, representing an 8% rise compared to the previous year. This years report saw 60% of their survey respondents say their company plans to run more events in 2019 compared to the previous year.
This information demonstrates how well the industry is doing overall, but what has made the events sector so successful? It's difficult to pinpoint the exact reason however we must consider technology playing a vital role and here's why…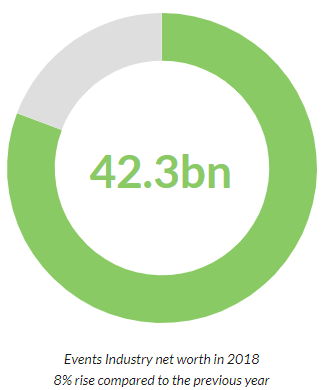 The way in which event organisers advertise and how we find events has changed drastically over the years. So many businesses (not just in the events industry) use social media as their main channel of marketing. The reason is simple, the audience potential is absolutely huge! There are currently 3.2 billion social media users worldwide with more and more joining every day. It's a fantastic way to showcase your events. Stream, post and share your videos to give a taster of what your business is all about!
A great benefit to advertising on social media is that is doesn't cost a penny. Posting a tweet, uploading a picture or publishing an article is free with the potential to be seen by millions. Even their paid advertising services can be more cost-effective than Googles PPC (Pay-Per-Click.)
An alternative and popular method, email marketing helps reach out to existing clients. Sending HTML rich content straight into your subscriber's inbox allows you to stay in close contact. From sharing news, listing upcoming events or simply saying hello, email marketing enables event organisers and their customers to stay connected.
From hosted events and expos to festivals and gigs it seems the majority of events have their own mobile app. Having an app allows your customers to interact with your business and find the information they need within seconds.
For example, I recently attended a business expo in London. The first thing I saw as I walked through the doors… 'download our app.' I took out my phone, downloaded their app and I had instant access to the floorplan, seminar times, and general information – Easy!
Don't let budget get in the way
All of the above methods can be done in-house or externally through marketing agencies. Even though marketing in-house is far cheaper, event organisers are choosing to outsource, but why? To make marketing work you need to commit a lot of time, a luxury (we find) that many event organisers don't have.
In such a competitive market it is important to be heard. You may find that budget is restricting how much you can advertise and showcase your business, this is where we can help. Our commercial loans are designed to be used for almost any business purpose, including marketing and advertising.
Here are just some of the ways you can use our loans:
Sponsored/paid social media
Email marketing services
App development
Website development
Leaflets and posters
Signage
Google PPC
Adverts
Borrow from £5,000 up to £500,000 over 1 – 5 year terms. We offer both secured and unsecured commercial loans to fit your business requirements. (Please note your business must be trading a minimum of 2 years to qualify for our loan products.)
High acceptance rates
Fast payout following approval
Credit approval typical within 48 hours
With such fantastic tools to help market your business, it's important to take advantage of them. So many companies out there offer amazing products but fail to be heard in the digital world. Let us help your business be heard!
Thank you for taking the time to read my blog about tech advancements in the events industry. If you would like to find out more about our loans please contact us on 01420 481 500 or email hello@bluestarleasing.com.